New-Tech™ Ventilated Enclosure Picture

(16 of 36)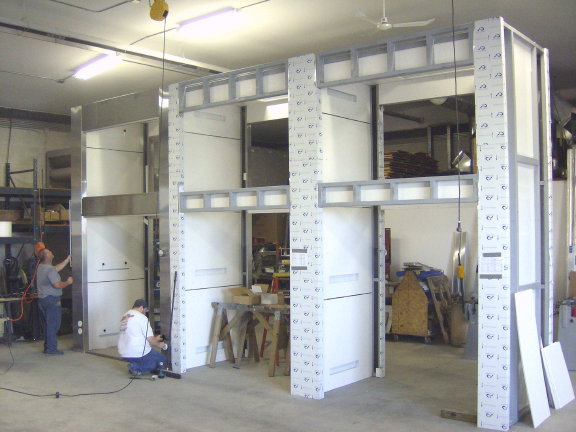 Ventilated Enclosure Picture VE-16 (#8-134)
View of the Fabrication and Assembly of the Custom Double Entry Walk In Ventilated Enclosures shown in picture VE-14 and VE-15.
This picture shows the New-Tech Crew fabricating and assembling the Custom Ventilated Enclosures at New-Tech's Facility.
This picture shows the main superstructure completed and the electrical cord pass-through conduits being installed. These electrical cod pass-through conduits allow the electrical cords from equipment inside the Ventilated Enclosures to be plugged into the electrical outlets on the outside of the Ventilated Enclosures while allowing the glass doors to remain fully closed.
The exterior surfaces of the Custom Ventilated Enclosures were made from Type #316 Stainless Steel (white plastic shown in the picture is a protective coating) and powder coated black iron steel (not shown in this picture).